Mike Jackson's seaside images are a snippet of real life in Mike's world. He loves to sit down at a Dorset or Somerset beach cafe with his little pad and sketch ideas based on what he sees around the harbour.
Mike say's "there is always lots to see and it's the ordinary things which are the most interesting, like leaving your kids in front of the punch and judy so you can have five minutes peace or seeing cars overpacked for just a week's holiday, these are things we can all relate to, and this makes them all the most interesting to me".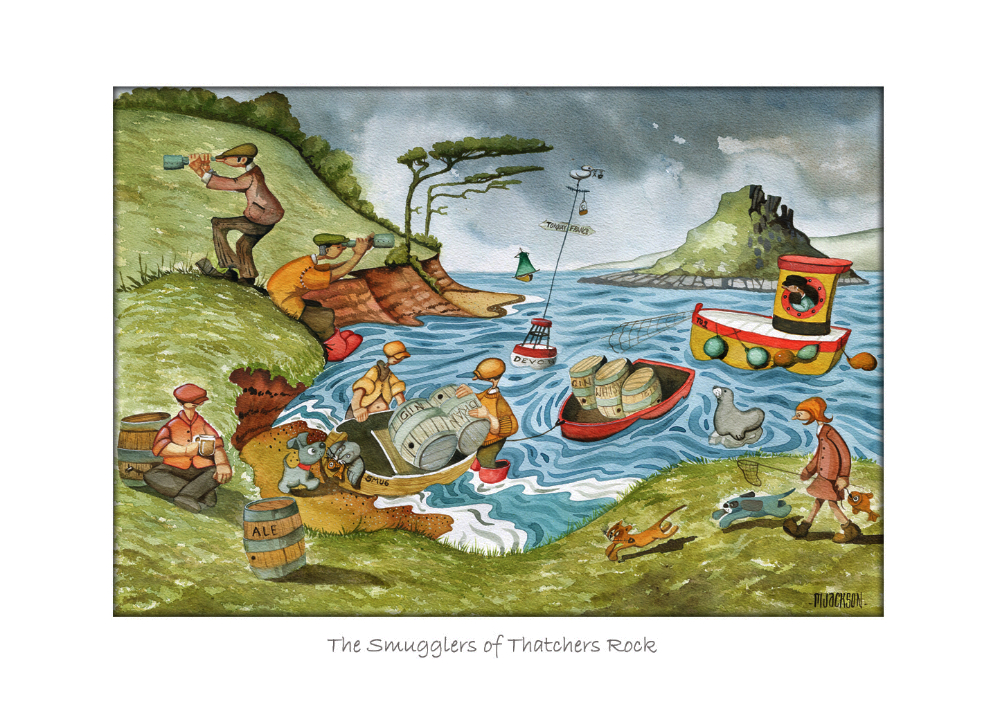 Prints now available from our online shop. Please enquire about the availability of the original.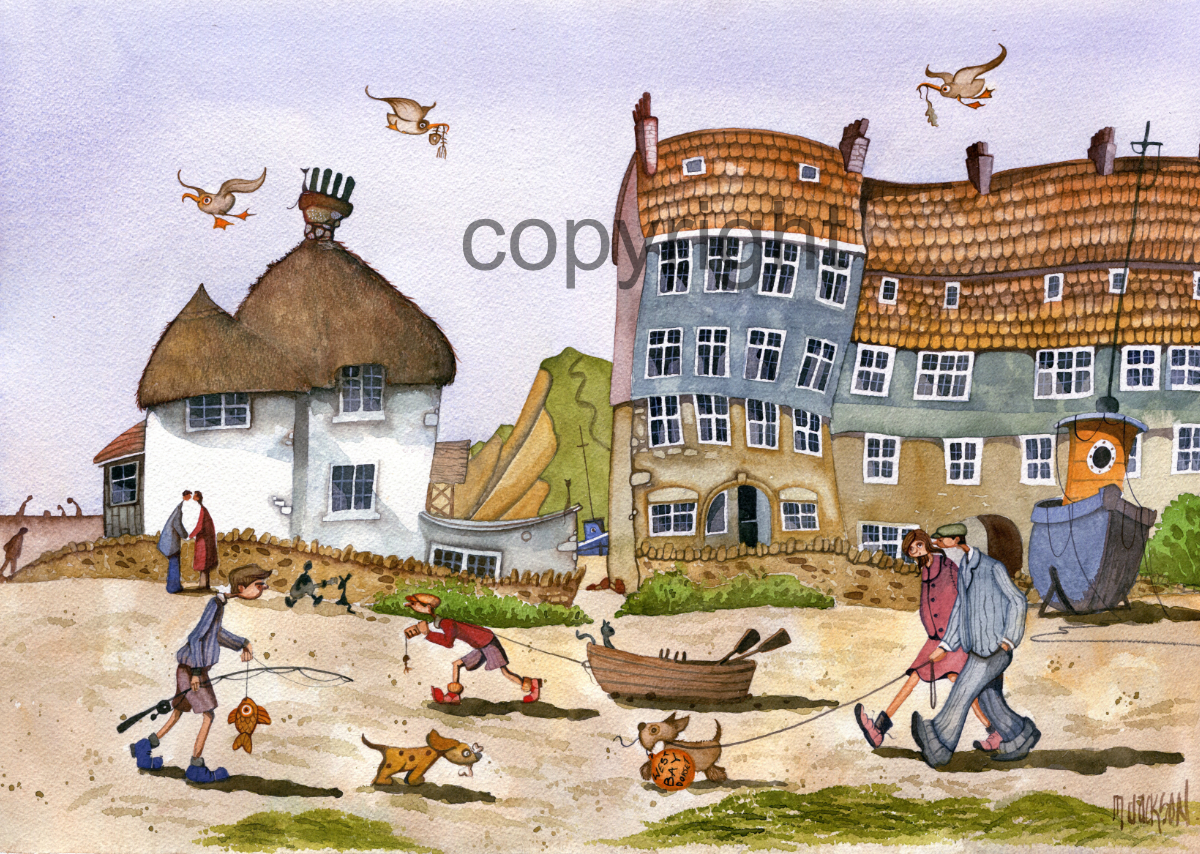 West Bay Life
Beautiful West bay in Dorset is one of Dorset's busy little harbours and getting more popular by the year. Home to Broadchurch, Harbour Lights and even Reggie Perrin. Ooh it's like Hollywood down here!!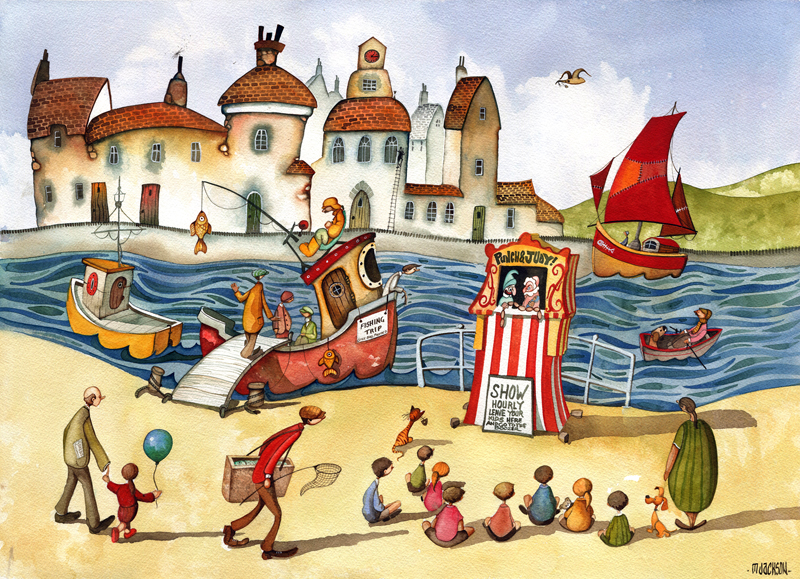 The Great British Show
Nothing has captured the attention of children more than the misogynistic barbarism of Punch and Judy. What kind of entertainment is that than the glorification of an abusive relationship with a crocodile and some sausages!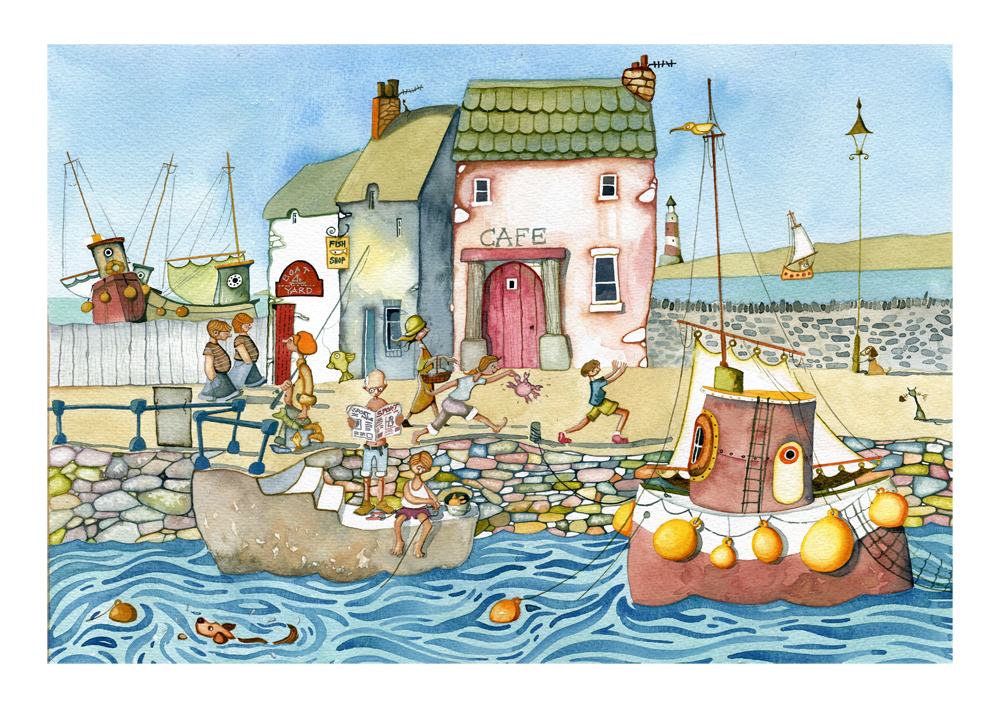 The Chase
I painted this picture after taking my grandson down to do a bit of crabbing. I was terrified of him falling in as he was leaning over so much, so I held on to the back of his trousers and shirt for dear life. His mum would kill me if I let him fall in. So, I decided to paint a parody of this with a very careless grandad in charge of things.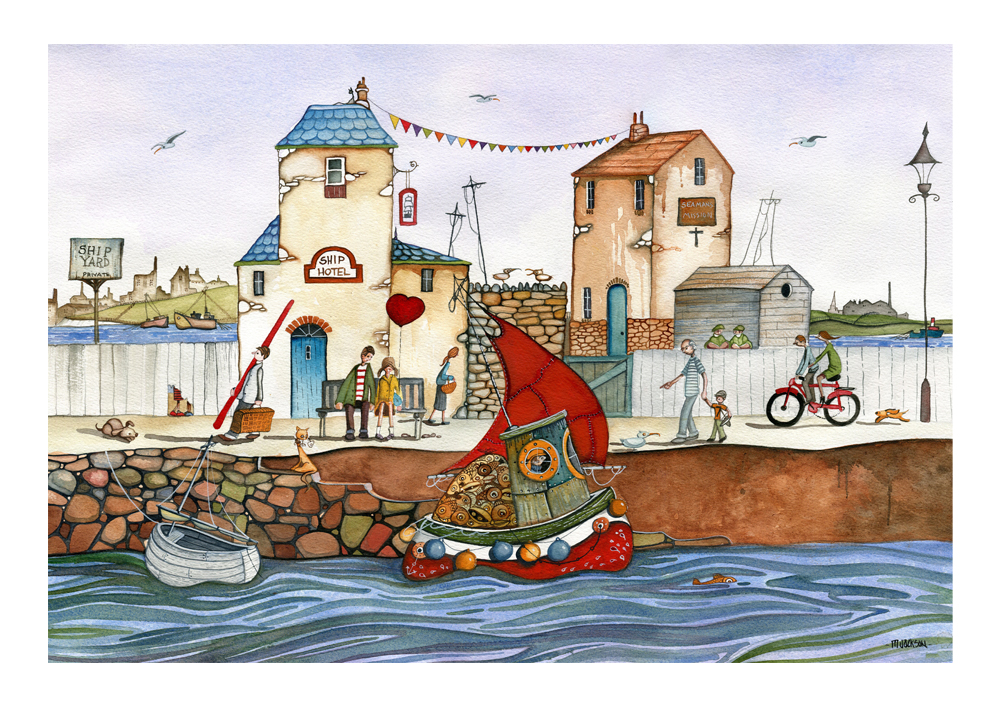 The Greatest Catch
Here are my little lovebirds once again, sitting on a bench and sharing a moment,. Now, initially we see the haul of fish in the net and believe that THIS is what the title refers to 'The Greatest Catch'... But No!! the greatest catch is the girl that the boy is with. Now then, did you see what I did there? Good eh!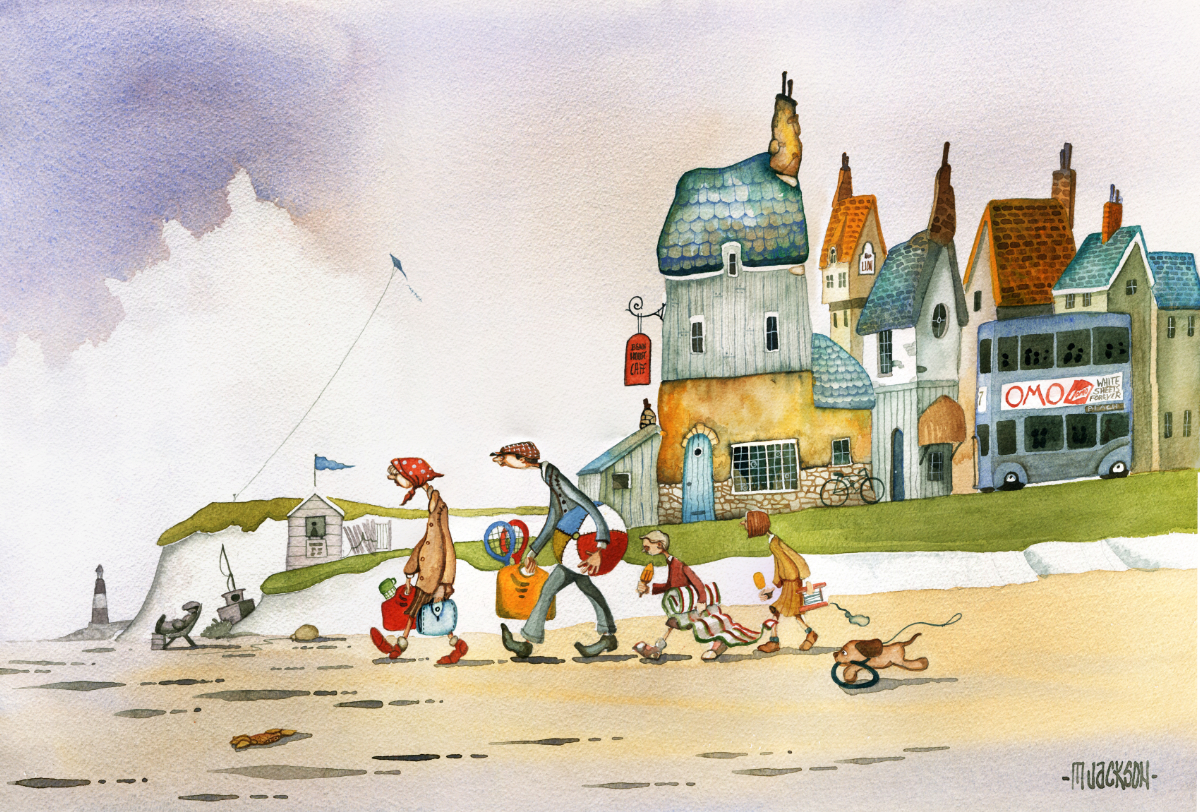 Days of Summer and Soggy Sandwiches
Memories of going to the seaside with grandparents, dragging the beach towel across the sand, donkey rides and sand in your wet butties. Then home in the charrah!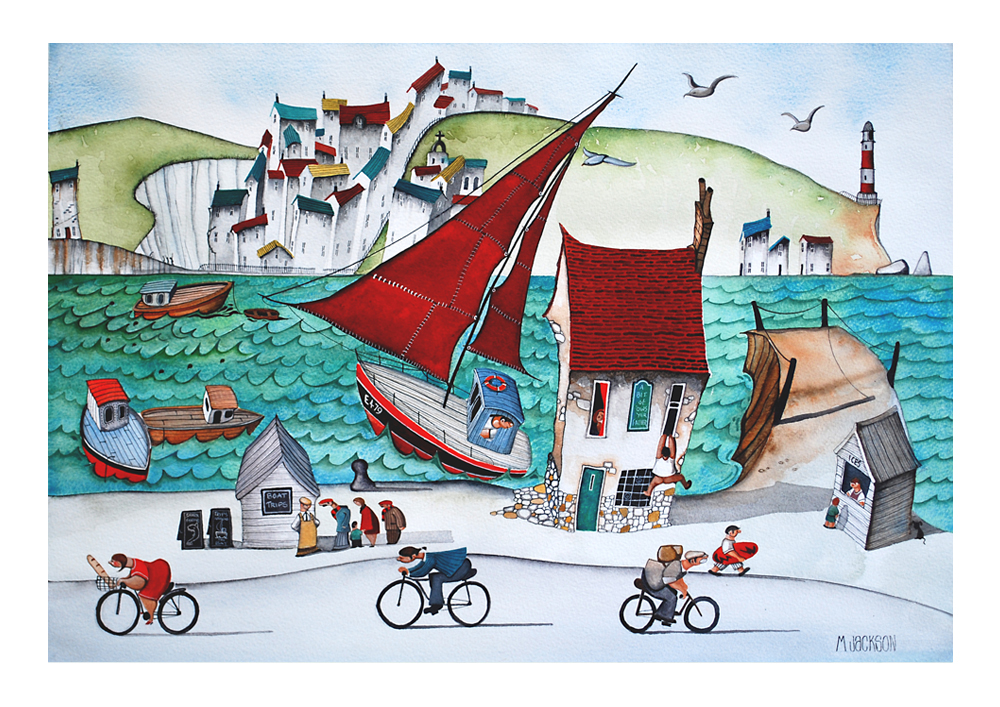 Hello Sailor
This cheeky couple are having a naughty time when the lady realises that her fella will be home shortly... "Quick, get out of the window" she cries as her new beau panics to find his clothes only to end up exiting the bedroom window without his trousers... What a Carry On!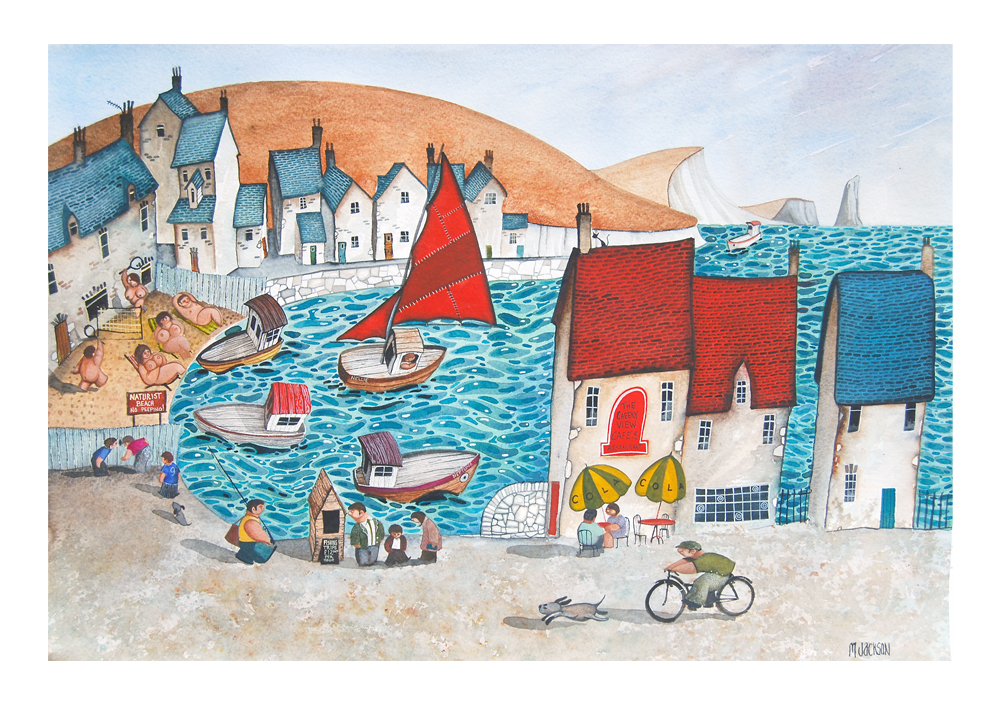 The Nuddy Beach
Down in Dorset there is a little naturist beach where the wrinkled people stroll along baring all. My little characters here are peeping through a hole in the fence trying to get a decent look. One little enterprising boy is charging 50p to have a look. Ooh the bare faced cheek!!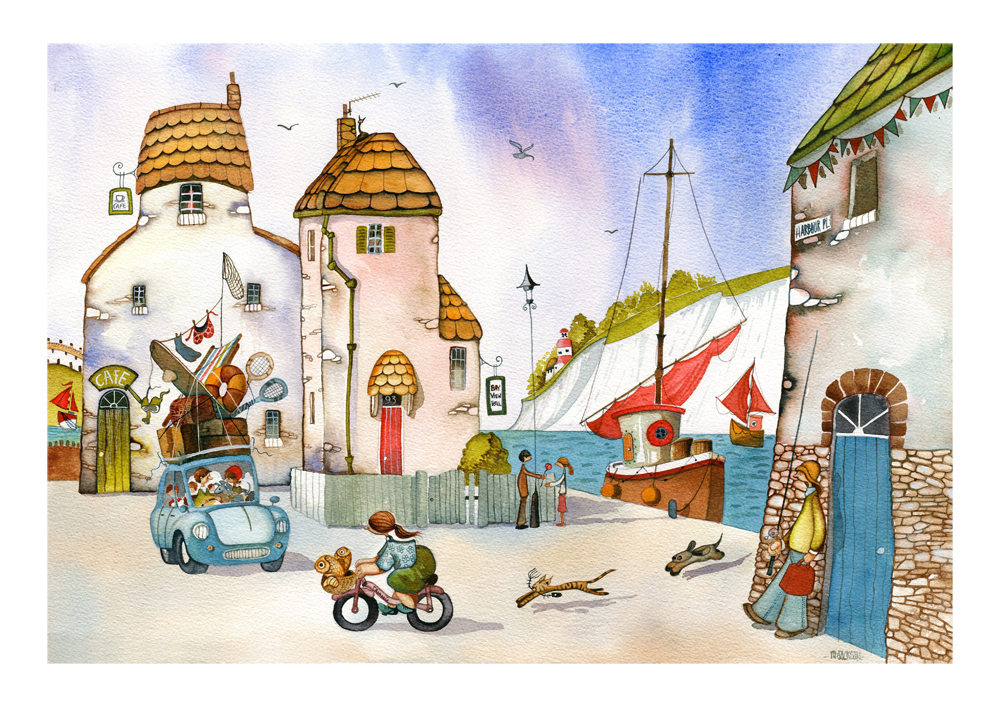 Are You Sure We Packed Everything?
Haven't we all been in this situation when our car has been loaded up that we feel like we have even packed the kitchen sink? This pretty little picture is showing just that. A family loaded up so much, I dread to see how the car will look going home!! we always go back with more than we came with.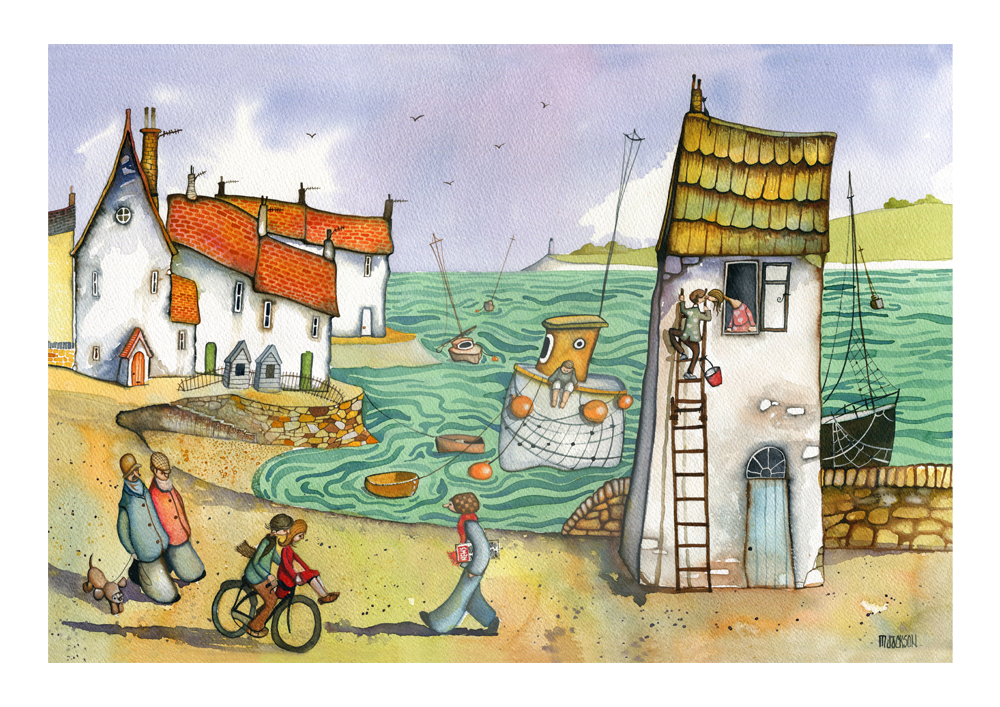 Romeo and Juliet
We all love a bit of romance don't we! Well here is the window cleaner being a bit cheeky and seeking a crafty kiss from his sweetheart leaning out of her window. Ooh er missus!!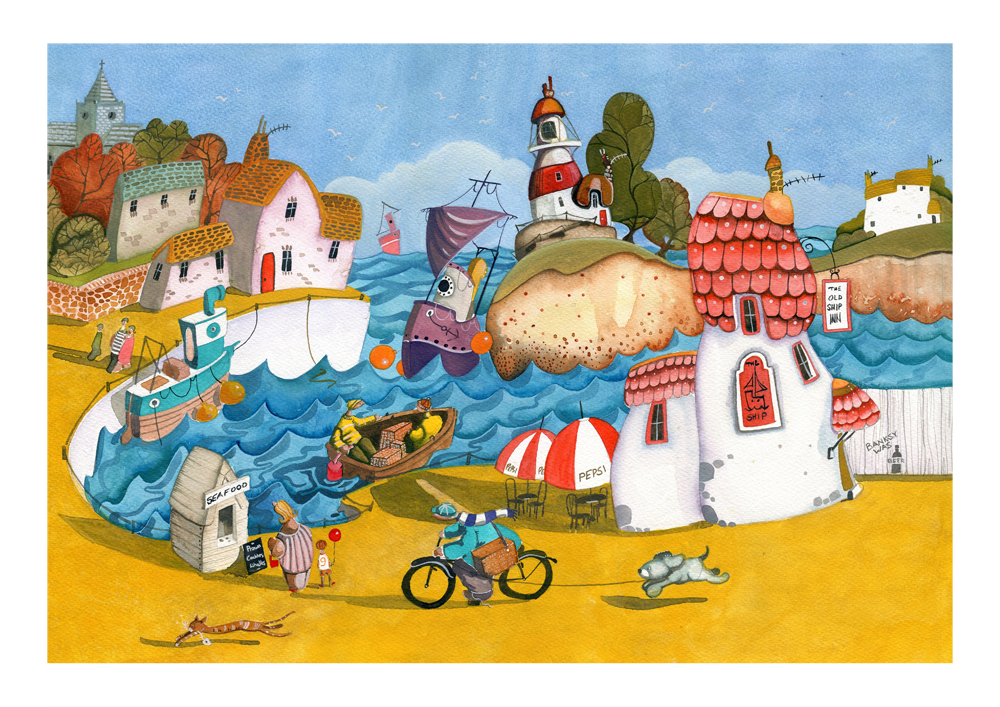 All at Sea
This is a very colourful image of a busy blustery day at the harbour. There is lots going on in this vibrant picture. All the contrasting colours here bring this to life. Enough colour to brighten up any room or give you a migraine!! Lots of character in this painting.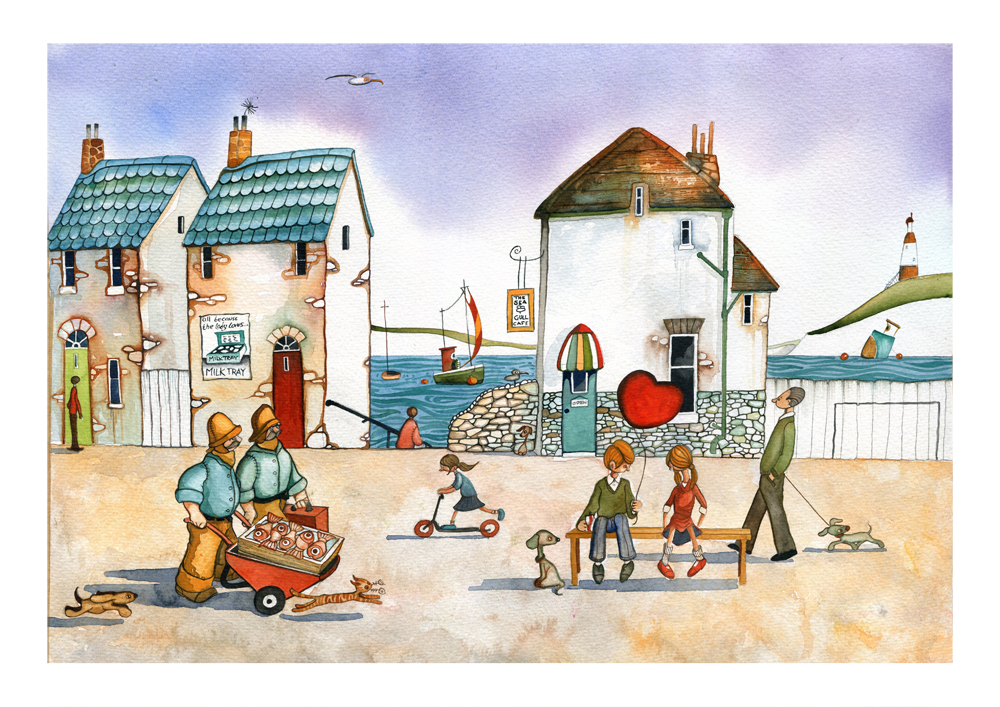 The Greatest Love
Do you remember your first love? Do you remember a holiday romance? These are special moments in our life, they define who we are, whether is is a school crush or when you first fell in love with your partner, these are the moments we will hold dear in our hearts.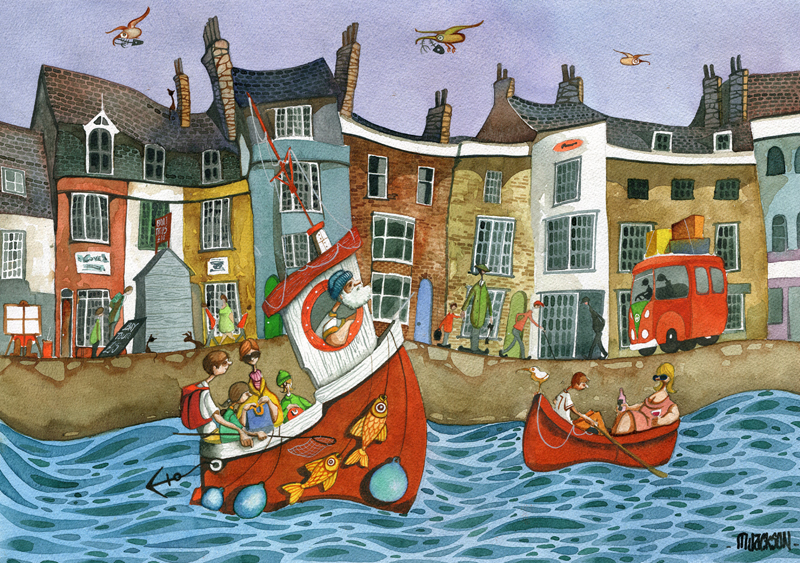 Captain Pugwash Rides Again
Set in the beautiful dorset resort of Weymouth, this seascape depicts one of the many fishing boat trips on offer there. Sick bags are not provided on these trips, so keep an empty shopping bag ready at all times.